Testing coloring for Stage shows and also abit of challenge cause this song dosnt fit them but did i make it fit ? it was more of a mess about , quick edit to see how it would go , tell me what you think.



Testing coloring for Stage shows and also abit of challenge cause this song dosnt fit them but did i make it fit ? it was more of a mess about , quick edit to see how it would go , tell me what you think

My Newest obsession i am hooked, can't get it out of my mind. * Watched it Saturday night , well you can call it Sunday morning cause i started it 1am after Super hero time slot and finished it like 4am

WELL WORTH IT , LOVE IT ! all the characters accept Yukimaru's son he kinda annoyed me, it was funny to see BoukenRed playing a Gay Ninja ,

I can't spell so lets just say Sasuke's Actor NAILED IT, He was perfect , Made me laugh even at emotional parts... , great Sasuke portrayal



Stage Play "Sanada Juyushi" (The 10 heroes of Sanada ) 舞台 「 真田十勇士

The stage show i actually bought a ticket to last year and had to painfully sell at the beginning of this year. * My Time will come to go Japan soon and see My idol .

Matsuzaka Tori * Of course , who else ? haha* as Kirigakure Saizo

He always seems to portray My Favorite characters not being biased cause i loved Saizo years before .

Manami Higa as Hotaru , Saizo's childhood Friend i kept calling her Anna before the show because thats who she is in Brave 10 One of my favorite mangas but they failed on the anime.


Current Location:

Tono My laptop

Current Mood:

happy

Current Music:

i did it for you - David cook
Thank you for watching, your comments and ratings mean the world , even though really this isnt a video am asking for ratings on at all,
I just wish for you to watch because this is how i cope and to beable to show it through My Favorite show is very special to me.
I tell own Story in the video even if its Takeru & Mako's .
My Mum was ill since she was 18 she ended up having a straight leg and looked after her in a wheel chair but she was that strong she used to walk on it .
My Grandad died when i was in year 9 in Junior school and My Mum when i was 16 when i was on my last year of High School .
We have always lived with My Nan and Like Jii she has looked after me since i was young I had My Mum and Grandad but My Nan took over After My Mum Died she saved my life and provides me a home i can not thank her enough for everything she has done for me. I wouldn't be here talking to you if it wasn't for her .
No Matter what happens just know you all make Life the best , always excited coming on everyday and even reading messages and knowing your online somewhere wherever you are , and i can't thank you from the bottom of My heart. <3 I love you all and i mean it .
Current Location:

Tono My laptop

Current Mood:

Emotional / But thankful for everything

Current Music:

You'll be In My Heart * Movie Version
My Friend just reported to me at 5am cause SHES HAD ONE HELL OF A FIRST DAY IN JAPAN ;)!
SOOO HAPPY FOR HER, she was trying to get ticket or didnt think she could cause members only but her friend surprised her with a ticket;
One report was a Fan got picked and she brought her Shodophone but he forgot how to use it , so she had to show him again ..
Takeru .... Haha

anyway reason am writing this sadkadkka still buzzing like totally , had a bad day at work , was at my worst today and this just made my day ! freaking out .
as she was reporting to me , saying she was like last row to the back i was feeling sad but tried to cheer her up saying like he was in the same room amazing enough but then she said how he came through the doors to the side so she got to him alot.
Right heres the part am freaking out on . THERES 3000 FANS ! limited to .
She was seeing staff with posters of something and said to her friend just grab one and at first i was thinking she was allowed one cause she wasn't a member and so i was getting annoyed at that and was like just give her one :'( to the staff in my head.
Then she said how it was taking ages to get out cause they was doing one by one, now i finally know why



everyone was going one by one cause Tori was there PERSONALLY Saying Thank you to every fan and handing them the poster. She got TO MEET HIM FACE TO FACE inches away with him saying thank you and handing the poster to her , she was looking at first her eyes was on the poster and only looked up when she heard Arigatou * and recognized his voice LIKE A


DADHAHDJHAJHDAJD HE IS AMAZING ! , He gave 3000fans and said thank you personality as they was leaving, now thats dedication to your fans.
Tori we love you , you are amazing .
Seriously shes in Japan for 2 weeks and this was the first day !!! THATS totally something out of movie haha ne ;')

thanx to My Friend Jana for making the Origami last year for My Birthday and My Sis Nadia for My Tori Calender * Christmas Present * . Totally Adorable. :')
SOOO HAPPY , SUN IS SHINING AND GUESS WHAT : I LOVE SHINKNGER !!!!!!!!!!!!!!!!!!!!! SHOUT IT AT THE ROOF TOPS
5 YEARS AND 9 DAYS !
When taking a photo do it in style ;)! Amy Chan aka RiderProxy is amazing :D ! 2 days it always takes , you want anything from Japan please order from her via her facebook or site.
Current Location:

TONO !

Current Mood:

HYPER / HAPPY

Current Music:

WE BUILT THIS CITY ON ROCK AND ROLL
Matsuzaka Tori , Hiroki Aiba ,Takanashi Rin , Suzuki Shogo , Morita Suzuka , Sōma Keisuke and Ibuki Gorō
and thank you to everyone who has watched My Videos, My Video editing, this show was the start of My Journey and they have changed my life.
Last years i felt I put myself to high i wanted to do an emotional video again called KING but the song turned everyone all sad and emotional .
I wanted to do a fun happy celebration video, a Tribute to the cast . always wanted to use this song since 2009 when i made the wallpaper for it
One part of the video with the lyrics : Beat the Darkness is what they taught us but the Cast also had their own battle back from the movie was out , promotions for the movie in events and filming for the series had to stop because one of the members became ill . I don't know if people new but they came back as appearance with a conference but also becomes the movie became a big hit . They fort through together , came back together and created an amazing show that changed My Life and My Friends around me i can't thank them enough .
After 7 hours of problems its done, sorry its short but i now know why i don't do cast videos as much as the show . Sony Vegas dosnt like AVI files anymore and alot of files just wernt working but i am happy with it . I hope it makes you smile with the cast.
Thank you for 5 years ,
Current Location:

Tono My laptop

Current Mood:

Emotional

Current Music:

Best Friends : Pokemon
Warning you now Spoilers for the Japanese Gatchaman Live action Movie ,
First MV I made for this movie the day the trailer aired is here
http://www.youtube.com/watch?v=0HlbHyl7Lhw
If you thought Takeru was Stoic , meet Ken ! , do not watch this movie expecting to see the same Characters as the Anime because you will not get them , This Movie has the Characters in an AU Universe if you like , Ken & Joe are the only ones who know each other and they all have a completely different past.
I Felt the Movie could of done with a bigger plot but i still loved it because it focused on Ken and Joe , yep totally biased but , yeah .
The thing that excited me the most about Gatchaman or any Film with Tori is how He's going to act or a certain situation , He pulls it off every time but then its Tori am not being biased , He is an amazing actor and He has proof for it , i was mostly smiling throughout because of the way he handled Ken's emotions .
Yes the film made me cry , Ken has a reason for being a Solider before a Leader, aka following Orders even if it means your teammates/friends getting hurt .
Current Location:

Tono

Current Mood:

Relaxing

Current Music:

World so cold
I just finished work before and was not expecting to do a Wolf Place
OMEDETOU TO MASAKI FOR BEING AWARDED ROOKIE OF THE YEAR AWARD HE REALLY IS FOLLOWING IN HIS BIG BROTHERS FOOTSTEPS speaking of which even though there wasnt a photo their was an adorable post , Masaki went to see Tori at Sanada10 and their was proud hugs and cuddles I WANT PHOTOS LOVE THE BROTHERS OF TOPCOAT TOGETHER ;D
http://www.youtube.com/watch?v=-Ifh8xACXqk
Need to watch The Tomorrow People tonight i planned to watch the returned show last night but Gatchaman Supriced me .
one character who annoyed the hell out of me at times is Jun , don't mind the actor the Character deserves a better scrip instead of being jealous love up puppy for Ken
The thing that excited me the most about Gatchaman or any Film with Tori is how He's going to act or a certain situation , He pulls it off every time but then its Tori am not being biased , He is an amazing actor and He has proof for it , i was mostly smiling throughout because of the way he handled Ken's emotions .
GATCHAMAN MADE ME CRY ! no kiddin
TORI SCORES POINTS FOR HIS ENGLISH MOMENT I Swear he sounds like He has a Sexy Italian Voice when He speaks English always
NOW AM JUST TRYING TO FIND A SONG THAT FITS THE MOVIE ;D
Speaking of which HERES MY JANUARY VIDEOS ;)! I started Jan with a BANG at video editing.
LAST VIDEO OF 2013 SAMURAI SENTAI SHINKENGER UNITY !
Shiba Takeru/Shiraishi Mako I want to make you see our Destiny
Center/Nezumi MG2 Never give up on you * Watched Majisuka Gakuen 2 in one day for these two they didn't disappoint *
Kikuchi Hiro Enemy * Clone Baby * ( 500 Subs Special Thank you ) * i actually made and uploaded this to my facebook last year but hit or got back 500subs this year so uploaded later to youtube
cause the Freezing cold air wispers to me * AU Takeru & Mako *
Sony Vegas was breaking on me but luckily it only lasted a night
Osama to Boku / Is this the moment when i look you in the eye * FAVORITE FILM AND I LOVE HOW THIS TURNED OUT SOO PLEASE WATCH , THANK YOU Focus on Mikihiko & Morio portrayed by Matsuzaka Tori & Suda Masaki
HAPPY BIRTHDAY Virginia * FUN MATSUZAKA TORI VID FOR YA * A Friends' BIrthday video with YUI singing and full of Tori and Shinkenger cast having fun . * Scenes i never used before.
Mikihiko & Kie With you i fell in love * Favourite Canon Couple
* Portrayed by Matsuzaka Tori & Nikaido Fumi
Hey Brother , Hey Sister Takeru & kotoha & Chiaki & Mako
Attack on Shiba Test * ATTACK ON TITAN OPENING SHINKENGER STYLE
been wanting to do this in a while : this is what got me into a dark place on Tuesday i think it was . But you all Brought me out of it , i posted this video on a friendly or used to be a friendly group and things was said .. like my editing was just cut clips together and i didnt deserve the credit i gave myself with having a watermark ,
I made the edit image for this over a year ago , but after My Friends brought me out after an hour , serously they threaten me with doing a Chiaki 47 on Takeru haha ! and then cheered me up with Shinkenger music and what not .
This is how i felt
Us against the world Dedicated to My Friends
HOW LONG ENTRY ;)! THANX FOR WATCHING AND READING, TAKE CARE
from Hell to Heaven by the end of the week WOO ;)! thats how i feel ,
Tori 's gonna be a student i think , in his new stage role for the History Boys this is very interesting to how this award winning play will change into a Japanese Adaption. Also it will be very interesting to see My Idol/inspiration My Favorite Actor learning about the world of Britain through its Schools.
Even though i been down and depressed on having to sell My Sanada10 ticket i am now aiming for Japan in September to see this , its like fate he's been put into something British.
Stage show is till the 14th September which means i need atleast 16 days off work if i want to stay for My Birthday .
He's made me alot happier cause i didnt think hed get a stage show this soon even though hes second casted i am also a fan of his fellow topcoat friend Tomoya ;)!
To say the least i did want to see this film when it came out haha , but its going to be very interesting guessing who their gonna play cause the mains in the cast list are both 65 so am saying student not teacher haha .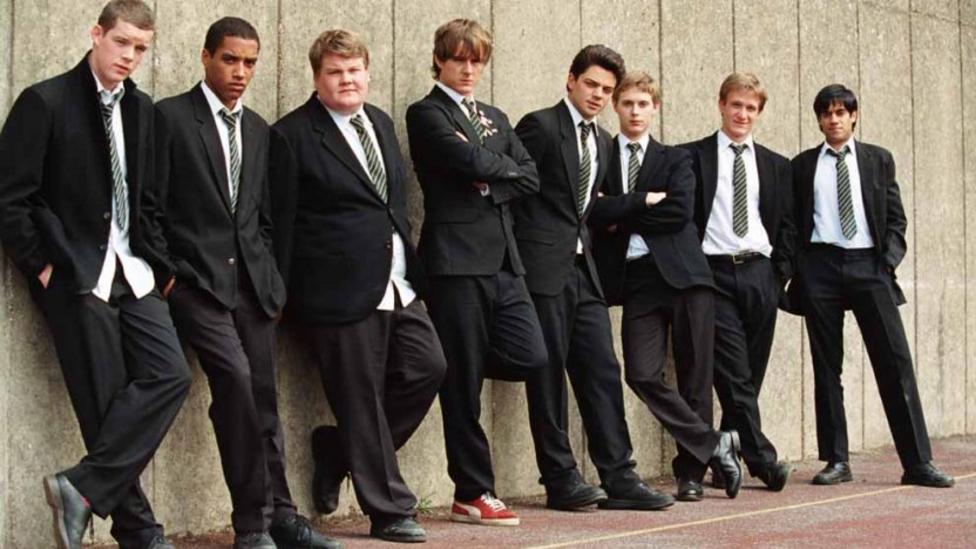 Current Mood:

content
MERRY CHRISTMAS AND HAPPY NEW YEAR EVERYONE , HAVE A GREAT DAY NO MATTER WHAT YOU DO .
Dedicated to everyone in My Life, My Family , My Family Online who make coming on after work or anytime exciting and we have a blast.
This Video has deep meaning in every clip i don't know if everyone who get them but what can i say Christmas is a very Emotional time but because its the end of the Year and we are all here , I Feel very blessed and overwhelmed to have everyone in My life. Thank you so much i love you all
Hope 2014 is as amazing as My Year 2013 year of the Snake has been for EVERYONE .
AHHH i bet you all thought i was missed leaving My OTP OUT NO WAY :)!
Current Location:

Tono

Current Mood:

happy
ALLL THE FEELS !!! I READ THE FANFICS IMAGINE AN OFFICIAL NOVEL ! omgomgomgomg YAYYYYYYYYYYYYYYYYYYYYYYYYY!
BTW THIS VIDEO WAS INSPIRED BY A FRIEND OF MINE who i can't wait to come back and have her Labby all fixed and celebrate with me
SHINKENGER IS * FAINTS ... PLEASE BE THE WRITERS FROM THE TAKERU X MAKO AND CHIAKI X KOTOHA EPISODES. ALSO CAUSE ITS A NOVEL WILL IT BE ADULT AUDIENCES LIKE THE KR ONES i just heard someone say will it have sex in it ...
ARE THEY TRYING TO MAKE ME EVEN MORE EXCITED OMG, BUZZING , SUPER EXCITED.
like CHRISTMAS CAME EARLY FOR ME
Three Chances Of Winning ITS CALLED AND IF THEY CONFIRM MY OTP MY LIFE WILL BE COMPLETE , on the other side i am scared it will be takeru and kotoha instead ., But i have to prepare myself with even the 10 years after movies they are making , you know sooo am ready no mater what
Takeru x Mako All About us * By My Favourite Band *
OMG SHINKENGER NOVEL , SHINKENGER IS HAVING A NOVEL